TOOLS FOR INDUSTRIAL IOT & INDUSTRY 4.0
Dataloggers for data collection from industrial machinery.
At Higeco, we measure the value of what we do by the satisfaction of those who use our systems. This is why we produce dataloggers and telecommunications hardware that respond to the real needs of our customers, offering them technological solutions to monitoring and data collection needs in the digital age.
We manufacture our industrial hardware in Italy, paying utmost attention to the selection of quality and high performance components. In this way, we can create customized monitoring tools, able to easily interface with all kinds of industrial machinery and electronic devices, and integrate with otherwise incompatible third-party systems.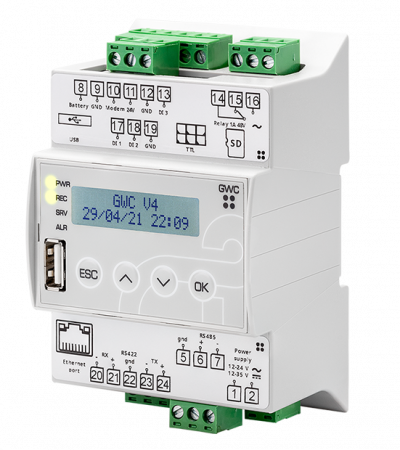 Discover our devices for the Industrial Internet Of Things
Higeco offers a comprehensive range of dataloggers and hardware solutions for data collection and the monitoring of machinery and electronic devices.
DATALOGGERS OPEN TO DATA EXCHANGE
Integrate your monitoring system with your choice of tools.
The added value of Higeco tools is their ability to interact with any kind of machinery or electronic device used in the industrial sector. Our hardware is equipped with a rich driver library, and uses the main bus communication protocols to interface with the on-board electronics of the devices that need monitoring.
Thanks to the software architecture of our dataloggers, and the ability to add new proprietary drivers and protocols, you can easily integrate your preferred third-party devices into your monitoring system, regardless of the manufacturer's brand.
Main integrated manufacturers
Dixell, Carel, ABB, Schneider, Siemens, Danfoss, Daikin, Mitsubishi, Wago, Allen Bradley, Notifier, Honeywell,
Eliwell, Clivet, Climaveneta, Gavazzi, Hiref, Huawei, Nilan, Seneca.
Modbus RTU, Modbus TCP/IP, CANopen, Euromap 63, Mtconnect,
Coster BUS, Nordex XML, MySQL, DNP3, OPC UA client side
Our models
Product range